Now personally I found combat quite easy however, it seems some people are just doing the very hardest way of training which isn't exactly repetitive but its slower.
Anywho this is the simplest combat guide ever, I'm not going into alot of detail, I mean there are alot more monsters out there to fight then I am showing this just seems to be the fastest course if your just looking for that.
Okay so,
Step 1: Click on the Monster Teleport tab in your magic booklet, it should be the same as the Aroudge teleport, and click Rock Crabs. ( Note I will refer to Step 1 multiple times just for simplicity )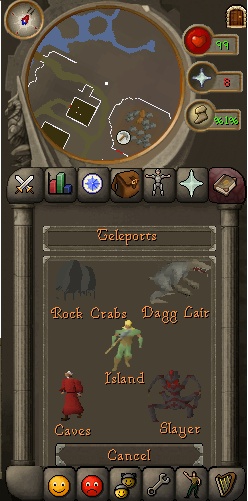 Step 2: Now at Rock Crabs I would suggest staying here until about levels 60+ ( as in strength, attack, range, magic ) ( defence isn't really important when fighting monsters the training monsters ) anyways yep I would say stay until at least 60 attack and around the same strength if not higher.
Step 3: Now head back to Step 1 and click on the Island Teleport.
Here you will most likely max out whatever you want to train, unless you get bored and you can go to almost anything else.
Anyways when you arrive with 60+ attack and an equalish strength level or range or magic you will want to fight the Hill Giants ( Tan with white shorts ) and the Moss Giants ( Green with brown shorts ) and get your strength and attack to around 75 each if not more.
After that you will want to fight the Elves but they hit extremely hard with their ranged attack, so if you haven't already you will need to raise your prayer high enough to use the Protect From Range prayer, I suggest this by burying big bones that can be bought from Alida at the Home teleport.
Now that you are fighting Elves with your Protect From Range you will fairly quickly level up. Just a big caution, no matter what Elves WILL ALWAYS hit hard no matter your armor or stats, so ALWAYS bring prayer potions, or super restores which can be bought from Alida.
Thats pretty much it now! However I did decide to add another part with dagganoths option.
So!
Step Extra! :
First I will refer back to Step 1 and tell you to take the Dagganoth Teleport to reach this.
Dagganoths, normal dagganoths are very easy to defeat ( this can be a replacement step 3 ) and don't hit to hard, you may have to eat every once in a while.
Anyways the biggest thing in this area is to the East of your starting teleport location, there you will find the 3 Dagganoth Kings, they aren't easy to defeat because of their high defence, but if you know the right prayers then they can't hit you.
BTW: Dagganoth prime usually drops 2 clues at a time when you don't have any! Well thats with my luck so Happy Hunting!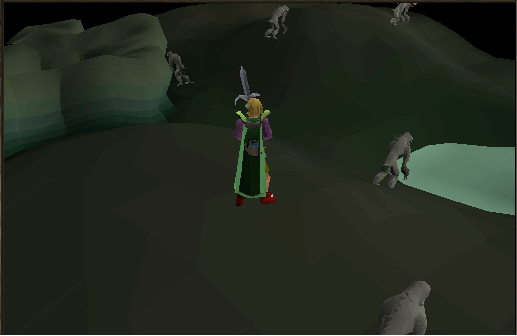 The End!
Hopefully I'll try and post more guides if this one was helpful.