Okay so mining is a pretty simple skill on this server but this is mostly just to let you know how to do it and at what levels.
Okay okay,
Step 1: First you will need to head to your spell book and click on the Skilling Area teleport, or the Camelot teleport.
Next ( yes still step 1! ) you will need to look around for a dwarf named Nurmof, he should be North of the banker and buy a rune pickaxe from him ( or any pick axe really I don't think there is a difference )
Step 2: Now you will need to head a bit South West of the banker and you will find the many types of ores.
Now you must start with the most east two, the Tin (silver) or Copper (brown) you will mine these until level 30.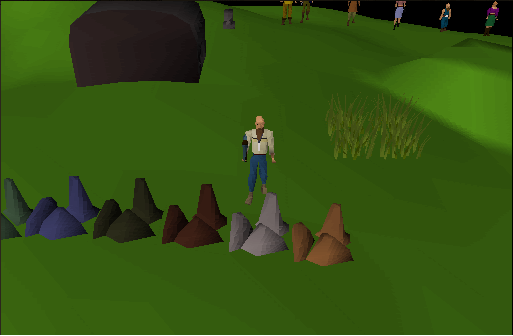 Step 3: Now you will be probably level 31ish and you will move up TWO rocks to the West, which is a really confusing rock color next to Mithril (Blue) but you will be mining Coal (weird color rock) until level 55.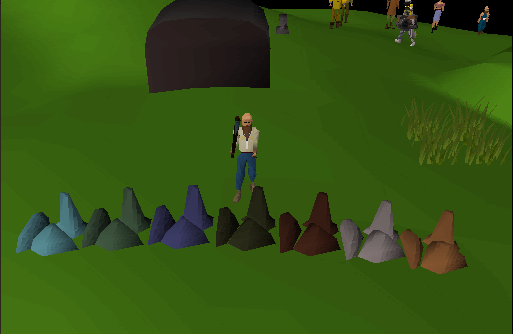 Step 4: Now that you are level 55 you will move up to Mithril (blue) until you get to level 70!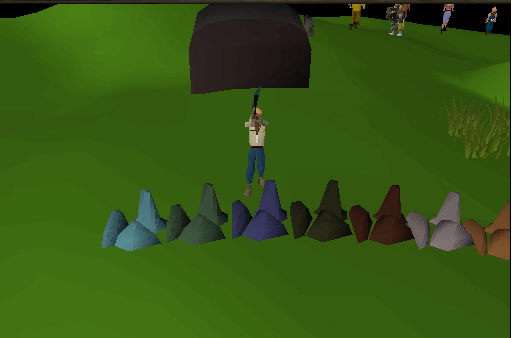 Step 5: Now that you are level 70 ( pretty easy huh?!! ) you will move one more rock West to Adamant (green) until you are level 85 and your final rock.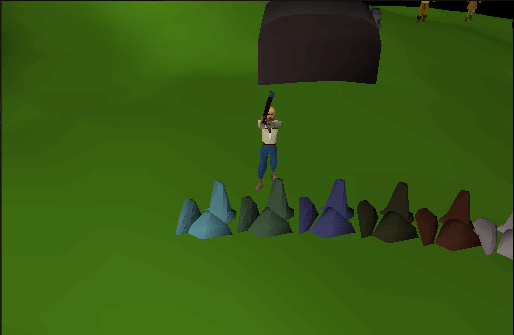 Step 6: Now you've made it to level 85 congrats! You should really admire your hard work!
Okay so first off Rune (bright blue) will give you a whopping 10k experience each ore ( which sucks but eh ) and you can sell to the general store for 88k each!!!!! Which makes this the best money making possibility ( or should be ) on the server!
So nows the long run all the way to 99!
Now for a little Extra information, when making this guide I actually did mine all the way so I could tell you this and I hope it helps.
I'm going to post a picture but if you can't see it then you should know that it takes, 6 Tin ore, 28 Coal, 95 Mithril ore, and 360 Adamant ore to get 85 mining.
Just a tid bit of info, and if I ever do reach 99 Mining I'll post how many Rune ores it takes to get 99.
The End!
I think >.<